Drina river canyon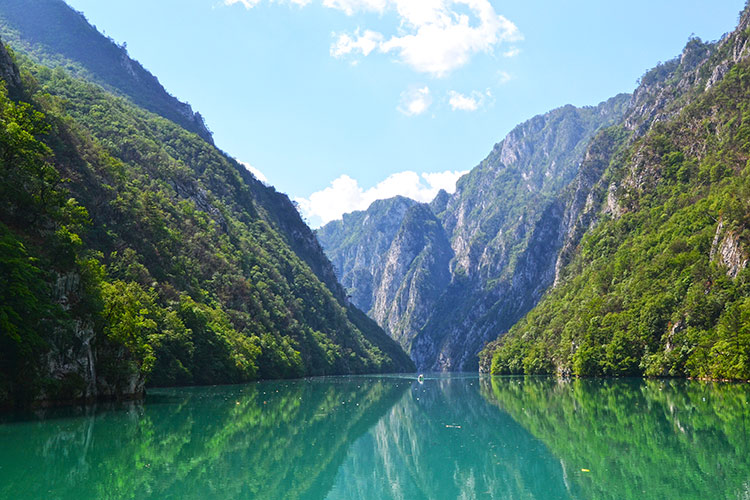 Drina River is considered as one of the most beautiful rivers in the former Yugoslavia. In the past it was famous for its wild nature and rafters who were taming its waves. Because of its winding course there is the saying "do not straight crooked Drina." Often in the past Drina spill out of its banks and destroys everything in its path. Drina originates from the Piva and Tara rivers who are joining in Scepan polje, with a total length of 341 km, going north to the mouth of the Sava river.
To date, on the Drina three hydroelectric power plants are made, which turned the major part of river course into a peaceful lake area. Now sadly no more rafts and rafters are presen, but thanks to the creation of artificial lakes Drina is available to the tourist boats, with organized cruises on the river Drina.
More on the Drina river cruises available here.
Visegrad is situated in the middle of the river Drina and includes two lakes on the town teritory. These are lake of Visegrad upstream from the town, and lake Perućac, downstream from the town.
Its natural beauty stands out especially on the lower lake, with a total length of 54 km. Only a few kilometers from Visegrad lake area enters a complete wilderness, with no roads and settlements. Traces of people reveals only few old farmhouses and fisherman on their boats.
In many places, the Drina passes through the straits in which the water rise almost vertically steep cliff. The Drina river downstream of the Visegrad passes between the Zvijezda and Tara mountains, and this is the deepest part of a canyon, because some peaks rise over 1.000 m above the sea level. The whole area is surrounded by pine forest which is the habitat of many wild animals, and you can see different kinds of birds that have found shelter there. The Drina river is considered as one of the richest fish rivers in the former Yugoslavia.
For more about the flora and fauna of Visegrad, see our website section flora and fauna.