Dobrun monastery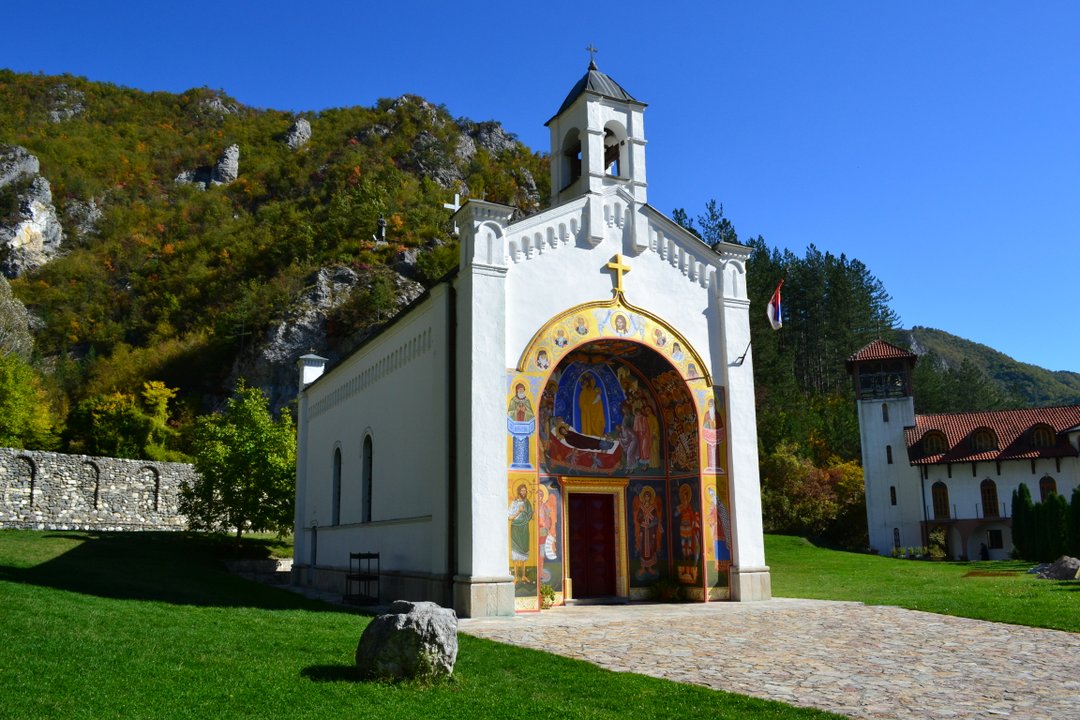 Dobrun monastery, also known as Kruševo, is located in the vivid mountainous area on the road from Belgrade to Užice, 12 km away from Višegrad, in the valley of the Rzav river. It is dedicated to the Dormition of the holy mother of God and was erected by župan Pribil and his sons Stefan and Petar in 1343. In 1383. as a monk Jovan built a very rich annex painted with marvellous frescoes. Already in 1393 when Turks got through in Bosnia for the first time, the monastery was ruined. It was reconstructed by despot Stefan Lazarević and princess Milica. On the crossing of the 18th and 19th century the monastery got abandoned.
There are no reliable data regarding the establishment and the history of the monastery. It is known that it was the centre of Metropolitan for a while. In its history the monastery was destroyed and reconstructed many times. The worst destruction took place during the Second World War, when Germans used it as a weapons warehouse, and set it to explode during their withdrawal in 1945. The monastery was reconstructed in 1946.
The monastery was painted with many frescoes. The best known frescoes preserved until present day are those of Tsar Dušan with his wife Jelena and son Uroš, as well as the fresco of the monastery founder zupan Pribil along with his sons and son in law Stan. In the rocks above the monastery there is a cave whose entrance area was closed with stone blocks. The monks lived there and would descend down to the monastery only during the big religious holidays. The monastery is still active these days. Within the complex of monastery there is a Museum of the First Serbian Upraising, The paintings gallery and a Museum of Dabro Bosnian Diocese of the Metropolitan.
The Old Town of Dobrun
It is located not far away from Dobrun monastery, 150 m high in the rocks. Long time ago this was the best known middle age town in the area, known as such since the 15th century.
The town was consisted of the fortress with the parish house and three sentry boxes. At that time the town was centre of the church and civil authorities for the area. According to the traditional stories told by people, the town was erected around 1440's by the "damned Jerina", the wife of the Serbian despot Djuradj Brankovic, but this cannot be clearly confirmed as a historic fact. In the middle age, the town also had its own suburbs where traders from Dubrovnik were staying.
These days we only see the remains of the towers, they are visible from the regional road.
There is an interesting legend about the old town Dobrun that you can read in the section Legends.