Visegrad house
The Visegrad House was established with the aim to offer a variety of local food products, beverages, natural cosmetics, handicrafts, jewellery, and souvenirs.
The food program includes goat cheese from mountain region Borike, Herzegovinian cow cheeses in olive oil, prosciutto, ajvar (Balkan speciality made of paprika), and there are also jams, sweet and jam from strawberries, raspberries, figs and plums, as well as local Visegrad honey. Lovers of sweets also choose the sweet products of the producer "Adria", which offers ratluk (Turkish delight), jellies and biscuits. All food products are made of the finest ingredients, according to the traditional recipes.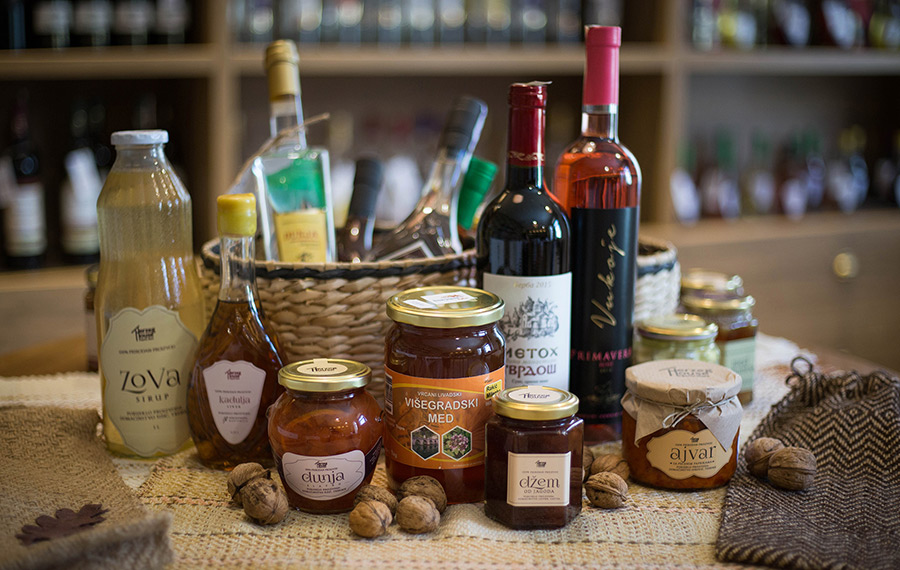 We offer a wide variety of local drinks, like quality brandies made of plum, quince, pear, apricot and grapes, as well as Herzegovinian wines of the well-known wineries "Vukoje", "Tvrdos" and "Sekulovic". If you are still for somewhat different, there are also liquors made of sage, kiwi, raspberry, blackberry, rose, walnut, mint or cherry. It is also possible to buy syrups and stem juices from aronia, raspberry, cherry, apple, pomegranate, plum and call. All products are made from natural ingredients, without preservatives, additives, artificial sweeteners and colours.
As for preventing health problems and remedying the already existing one, from natural products we also offer teas, tinctures, balms, creams, gels and tonics prepared with herbal ingredients selected in unprocessed areas, dried and prepared in ways that will best keep their medical properties.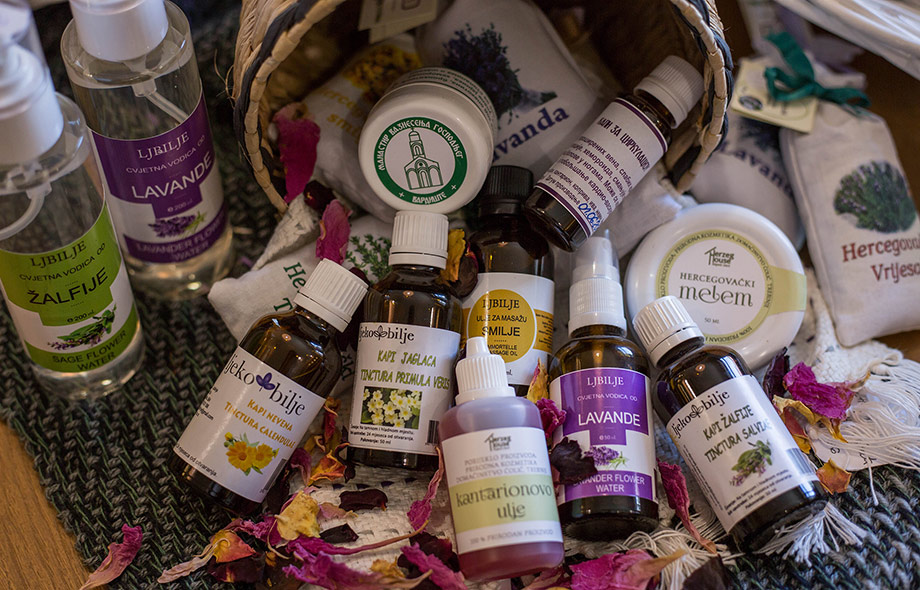 If you need a gift for a dear people, you will be able to choose between unique knitted, woven and heeled pieces of clothing and handmade work made by women of Visegrad. In addition, you can also see a variety of decorative and useful items, such as jewellery boxes, hair brushes, bookmarks, pads, decorated jars, pictures made with different techniques, unique jewellery, all unique and irresistible. The souvenir offer includes cups, postcards printed pictures with the motif of the famous Mehmed pasha bridge and Andricgrad.
Whether you live in Visegrad or you have come to see the beautiful Drina river, the bridge in the world that does not have equal one, the streets of Ivo Andric's childhood, you can choose something from the authentic taste or the smell of this region or souvenirs that you will like
https://www.facebook.com/VisegradskaKuca/
https://www.instagram.com/visegradska/
Welcome!