The event "Golden hands of the Drina region "
04.06.2017.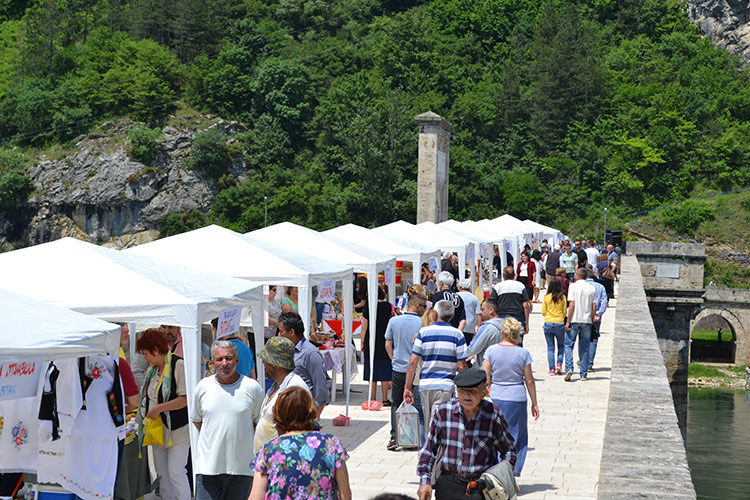 The event "Golden hands of the Drina region" was held on the bridge on the Drina, where about twenty exhibitors from the Republic of Srpska, Serbia and Montenegro participated.
The Mayor of Visegrad, Mladen Djurevic, said that this event is one of those that specifically promotes Visegrad, the region, as well as the tradition and customs of the people from this region.
"Today, we are here to give our contribution to protecting and preserving old crafts, promoting handicraftsmen, their arts, which have been transmitted for centuries and remained", said Djurevic.
He added that the intention of the event is to create products that will resemble the past, present the present and preserve everything from forgetfulness for future generations.
Djurevic thanked all the exhibitors and wished them a pleasant stay in this city.
Director of the Tourist Organization, Olivera Todorovic said that the success of this event exceeded expectations and that, apart from the towns of the Drina region, guests from all over the Republic of Srpska, Serbia and Montenegro were here.
"Today we have guests who cherish tradition, and we know that without tradition there is no future" , Todoric said, adding that the Tourist Organization of Visegrad has recognized those who contribute to the cultural development of the town.
Participant Jelisavka Radic from Zvornik, who exhibited handmade, embroidery, souvenirs, folk costumes at this event, says she has been participating for many years and is pleased with the organization.
Tijana Stepanovic from Lazarevac is engaged  in this event, on the high-rise sofa. "I did not expect this, and I'm still trembling with excitement. The answer was yes and I'm very happy about it ", said Stepanovic.
The fiance, Savo Djeric from Uzice, said that he decided on this step because he knew the history of the bridge.
"The bridge has been demolished for centuries, but it still stands here. It is a symbol of love and eternity, and I want our love to be as strong as this bridge", added Djeric.