Predstavnici kompanije "Tomas Kuk" oduševljeni turističkom ponudom
29.01.2018.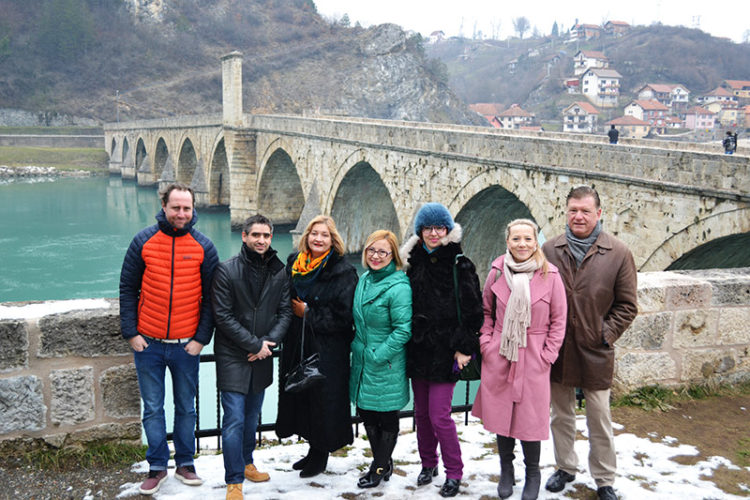 Predstavnici britanske turističke kompanije "Tomas Kuk", predstavništvo iz Belgije, posjetili su Višegrad, kako bi istražili mogućnost organizovanja grupnih turističkih posjeta u ovu opštinu.
"Višegrad je postao prepoznatljiva sredina u svijetu i sve veći broj turista dolazi ovdje zbog velikog broja znamenitosti", rekao je načelnik ove opštine Mladen Đurević koji je primio delegaciju kompanije.
On je dodao da mu je veliko zadovoljstvo da predstavi Višegrad na najbolji način, kako bi pokazao da ovaj grad ima izuzetan predio, hranu, turističke potencijale i da je grad otvorenog srca i dobrih ljudi.
"Ovdje vlada divna atmosfera i gosti koji dođu oduševe se ljubaznošću, a zatim i svim drugim ljepotama koje Višegrad nudi. Nastavićemo i dalje da ulažemo u turizam kao bitnu privrednu granu", dodao je Đurević.
Stručni saradnik kompanije "Tomas Kuk" za ispitivanje stranih tržišta Dejvid Ponet rekao je da mu je veliko zadovoljstvo što je u Višegradu.
"Moram da kažem da su moje impresije više nego pozitivne. Posjetili smo Andrićgrad, ćupriju i mislim da je ovo ogroman potencijal ovog dijela s obzirom na istorijski značaj. Impresioniran sam i nadam se da ću ponovo doći i da će doći veći broj turista", istakao je Ponet.
On je dodao da su ljudi fantastični, ljubazni i gostoljubivi.
Na pitanje novinara, kada se mogu očekivati prvi turisti, on je rekao da je to sada proces koji treba da prođe.
"Zemlja treba da se uvrsti kao novo tržište, prije toga treba da se uradi marketing države i poprilično u zapadnom svijetu da se promijeni percepcija ovih krajeva. Kao treća faza će biti dolazak turista", dodao je Ponet.
Direktor Turističke organizacije Višegrad Olivera Todorović rekla je da je jedna od aktivnosti Turističke organizacije prihvat stranih turističkih operatera.
"Danas smo imali to zadovoljstvo da dočekamo jednu od renomiranih evropskih i možda najznačajnijih turističkih agencija. Turistička organizacija je bila domaćin, uz veliku podršku načelnika opštine Višegrad. Pokušali smo da našom prezentacijom pokažemo šta Višegrad nudi, najinteresantnije dijelove ovog grada počev od ćuprije do Andrićgrada kao i jednu od tih avanturističkih tura, a to je krstarenje rijekom Drinom", naglasila je Todorovićeva.
Turistička kompanija "Tomas Kuk" je prva i najstarija turistička agencija na svijetu, osnovana 1841. godine, a danas posluje u velikom broju zemalja, kao jedan od najznačajnijih evropskih turoperatera.
SRNA