Počelo postavljanje turističkih kućica za prodavce suvenira
19.06.2017.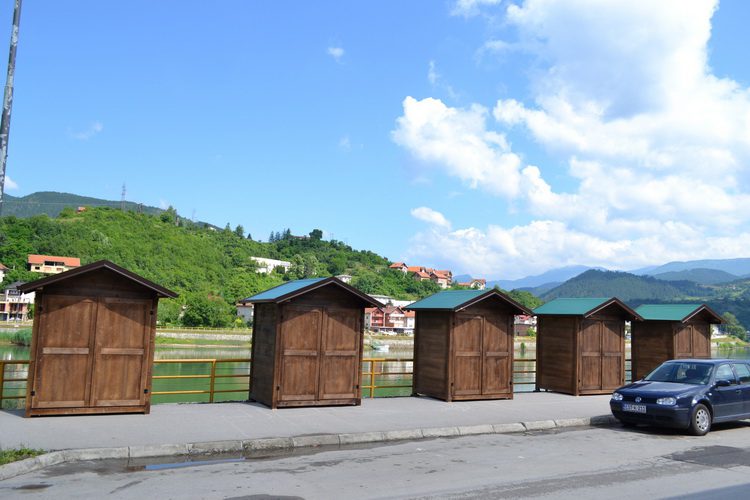 U Višegradu je počelo postavljanje 19 turističkih kućica za prodavce suvenira, koje je finansirala Turistička organizacija /TO/ Višegrad uz podršku opštine s ciljem stvaranja ljepše slike grada i privlačenja pažnje turista.
Direktor TO Olivera Todorović rekla je da su do sada svi prodajni objekti za turističke suvenire bili neuređeni, što je narušavalo sliku Višegrada kao lijepo uređenog grada.
Ona je dodala da na ovaj način žele da u Višegradu svi prodajni objekti budu identični, da kupci prolaze jednom maršrutom, te da prodavci imaju ravnopravan položaj.
To će, naglašava Todorovićeva, doprinijeti ljepšem izgledu grada.
"Turistička organizacije će na ovaj način omogućiti prodavcima da proizvode prodaju u lijepo uređenim objektima, gdje će biti zaštićeni od vremenskih uslova, a prizvode će moći da čuvaju u objektima", napomenula je Todorovićeva.
Ona je rekla da će turističke kućice biti postavljene na dvije lokacije, u Ulici Druge podrinjske brigade, odnosno na šetalištu od mosta do Andrićgrada, i na Trgu palih boraca.
"Svi registrovani prodavci suvenira mogu da se jave Odjeljenju za prostorno uređenje i stambeno-komunalne poslove da apliciraju za turističku kućicu. Podjela će se obavljati putem izvlačenja brojeva, kako bi obezbijedili transparentnost", dodala je Todorovićeva.
Načelnik opštine Višegrad Mladen Đurević rekao je da je Skupština opštine Višegrad donijela odluku o planu korištenja javnih površina, koja se odnosi na postavljanje kućica za prodaju suvenira.
"Tom odlukom utvrđene su dvije lokacije u užem dijelu grada. Sa korisnicima usluga biće zaključeni ugovori, gdje će biti definisane obaveze i uslovi za korištenje kućica", istakao je Đurević i dodao da će prodavci suvenira plaćati samo placarinu.
SRNA