Manastir Dobrun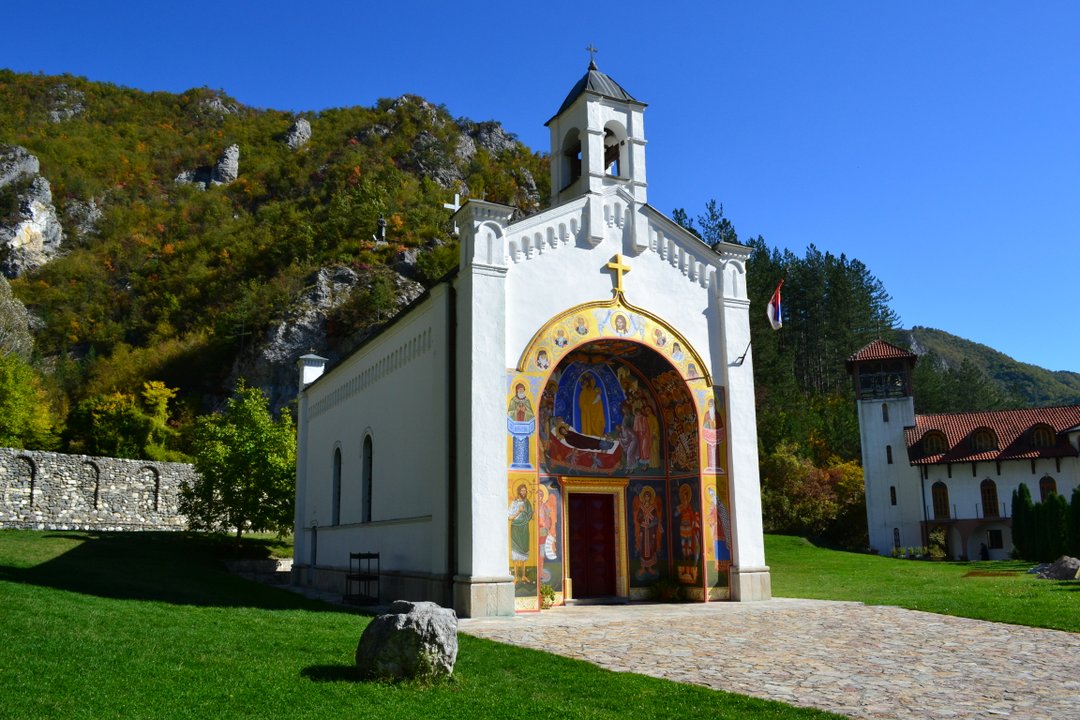 Manastir Dobrun, u izvorima poznat kao Kruševo, nalazi se u živopisnom planinskom kraju na putu Višegrad- Užice, 12 km od Višegrada, u klisuri rijeke Rzav. Manastir je posvećen Uspenju Presvete Bogorodice, a podigli su ga 1343. godine župan Pribil i njegovi sinovi Stefan i Petar. Župan Petar je 1383. god. dogradio hramu spoljnu pripratu i riznicu i živopisao je, nakon čega se zamonašio i dobio ime Jovan. To je vrijeme turskog osvajanja zapadnih dijelova Srbije, kada monasi ostaju bez svojih manastira i utočište nalaze u manastiru Dobrun, u zaleđini istoimenog grada, koji je važio za neosvojivo srpsko utvrđenje. U doba župana Petra manastir je imao 720 monaha. Nakon prvog stradanja manastira, od strane Turaka 1393. godine, manastir su obnovili despot Stefan Lazarević i kneginja Milica. Manastir je tokom turske vladavine nekoliko puta bio rušen i obnavljan. Zbog otežanih uslova manastir je u potpunosti opustio, a monasi se raseljavaju po starim isposnicama i tako nastavljaju monaški život.
Početkom 19. vijeka, zahvaljujući narodu dobrunskog kraja i baronici Vilhelmini Nikolić, manastir je 1884. god. ponovo obnovljen. I tokom Prvog svjetskog rata manastir je rušen, ali je najveće stradanje doživio u Drugom svjetskom ratu. Nijemci su manastirsku crkvu koristili kao skladište mina, te su pri povlačenju 1945. god. aktivirali eksploziv i razorili manastir do temelja. Ostala je sačuvana samo priprata i zvonik. Već sljedeće 1946. god. narod je ponovo obnovio crkvu.
Iako je manastir bio u potpunosti živopisan, zbog brojnih rušenja i stradanja, većina fresaka je uništena. Najpoznatije, do danas sačuvane freske, su freska cara Dušana sa ženom Jelenom i sinom Urošem, kao i freska sa ktitorom manastira županom Pribilom, njegovim sinovima Stefanom i Petrom i zetom Stanom.
Manastir je dugo vremena služio samo kao dobrunska crkva, a od 1993. god. obnovljeno je monaštvo i manastir Dobrun postaje aktivni manastir.
Povodom obilježavanja 200 godina od podizanja Prvog srpskog ustanka 2004. god, manastirski kompleks je postao bogatiji za Karađorđev konak u kom je smješten Muzej Prvog srpskog ustanka, Galerija, kao i Muzej Mitropolije dabrobosanske, a na uzvišenju iznad manastira podignut je spomenik voždu Karađorđu.
Stari grad Dobrun
Stari grad Dobrun nalazi se u neposrednoj blizini manastira Dobrun, 150 m visoko u stijenama. Bio je nekada najpoznatiji srednjovjekovni grad u ovoj oblasti, poznat još u 15. vijeku. Sastojao se od tvrđave sa župskim dvorom i tri kule-stražarnice. Nekada je bio sjedište crkvene i svjetovne vlasti za ove krajeve. Po narodnom predanju grad je oko 1440. podigla "prokleta Jerina", žena srpskog despota Đurađa Brankovića, ali se to ne može tačno istorijski potvrditi . U srednjem vijeku grad je imao i svoje podgrađe u kome su boravili dubrovački trgovci. Do danas su sačuvani samo ostaci kula, koje se mogu vidjeti sa magistralnog puta.
Za stari grad Dobrun je vezana interesantna legenda koju možete pročitati u sekciji sajta Legende .